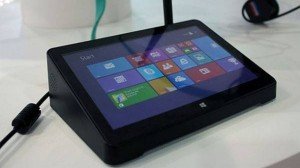 Οκ,όλοι γνωρίζουμε πως είναι ένα tablet.Σωστά;….Λάθος!Φαίνεται κάποιες εταιρίες θέλουν να μας τρελάνουν.Ο λόγος για την Pipo και το X8.Χθές το βρήκα στο geekbuying.com στα €95 και πραγματικά μου κίνησε το ενδιαφέρον.
Ναι φοράει Intel Z3736F Quad Core και έχει τα εξής χαρακτηριστικά:
2GB DDR3L RAM + 32GB ROM

Intel HD Graphics
Built-in Speaker and Mic
Support Bluetooth 4.0
802.11b/g/n LAN
Extended Storage T-FLASH(Support 64G MAX)
HDMI Port Standard HDMI female, support up to 1080p
Other Interfaces 4xUSB|1xRJ45 LAN Port|1xTF card slot|1xEarphone jack|1xmicro USB|1xHDMI interface
Power 12V/2.4A
Dimension 173x120x45mm
Weight 428g
Υποστηρίζει 1920χ1080P & H265 hardware decoding

Dual boot

Windows 8.1 with bing & android 4.4 
Έχει πολύ μικρή κατανάλωση ενέργειας και είναι διαφορετικό από τα άλλα γιατί θα έλεγε κανείς είναι ένα υβρίδιο μεταξύ desktop και tablet.Μπορεί να μπει ας πούμε σε χώρους που είναι ανοιχτούς σαν ένα εκθεσιακό κιόσκι ή σε μία εταιρία για πληροφορίες ή σαν ένα βοηθητικό pc για διάφορες λειτουργίες.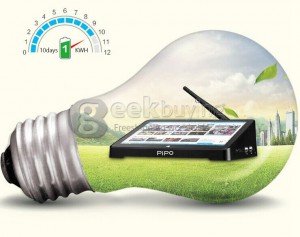 Βλέποντας το καλύτερα τελικά, με 4 usb και 1 θύρα για RJ45 για LAN καθώς και οθόνη είναι κάτι μεταξύ android tv box και tablet.Σίγουρα αξίζει!